Erb Dazzling Spring Body Oil 230ml. ออยล์ทาผิว กลิ่นสวีทออเรนจ์ เพิ่มความยืดหยุ่น ผิวชุ่มชื้นยาวนาน + Gift Box 2024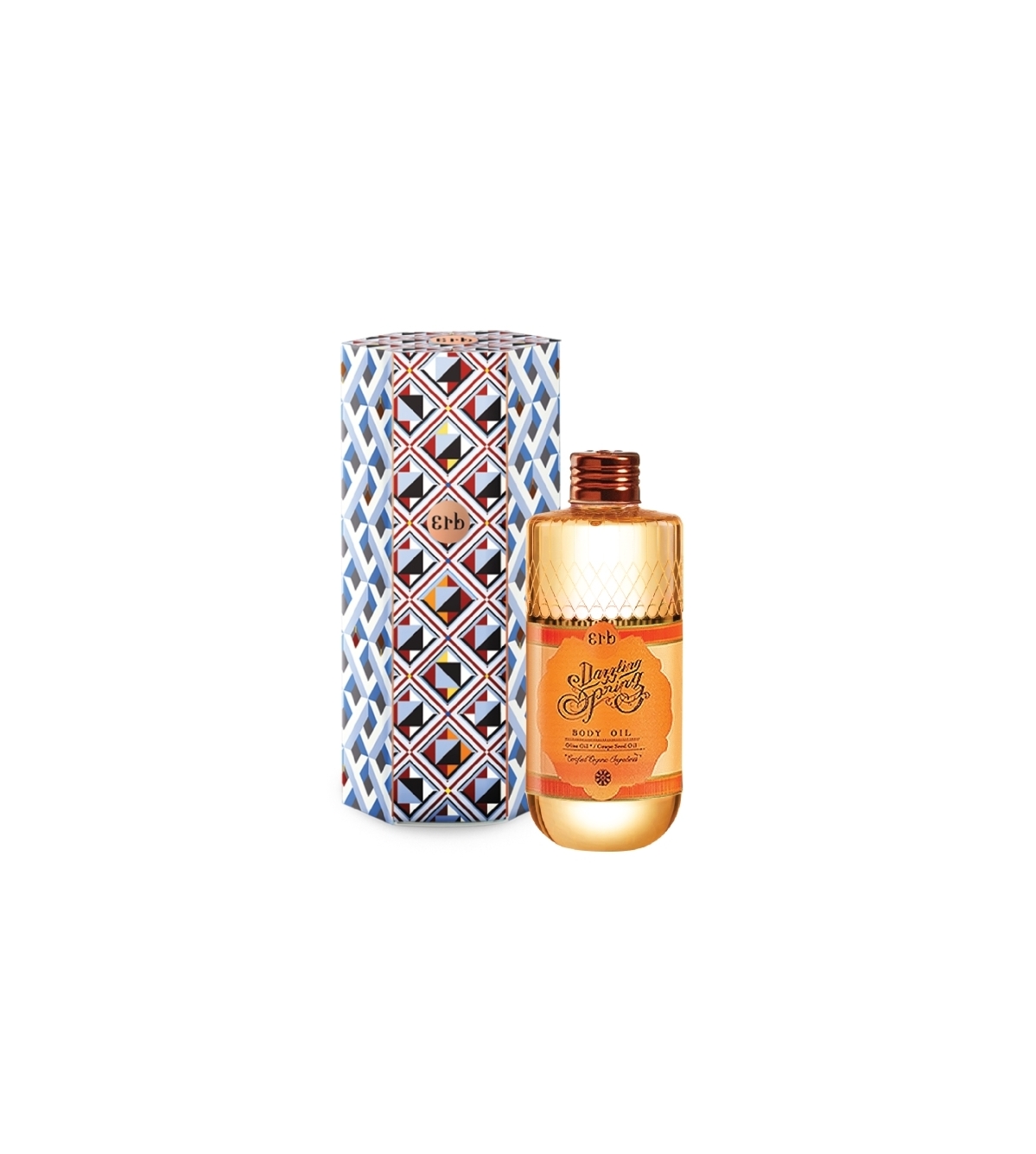 ออยล์บำรุงผิวสูตรบางเบา ที่ผสานคุณค่าจากน้ำมันเล็ดองุ่นเข้าบำรุงผิวอย่างรวดเร็วไม่ทิ้งความเหนอะหนะ ช่วยคงความชุ่มชื้น ปกป้องการสูญเสียน้ำจากผิว บำรุงผิวให้นุ่มชุ่มชื่นยาวนาน เหมาะสำหรับผิวธรรมดาและผิวแห้ง
ส่วนผสมสำคัญ
✨ Grape Seed Oil (เกรป ซีด ออยล์), น้ำมันเมล็ดองุ่น : ประกอบด้วย Polyphenols ซึ่งเป็นสารต้านอนุมูลอิสระ ช่วยชะลอริ้วรอยของผิวพรรณ ปกป้องคอลลาเจนและผิวจากการทำลายของอนุมูลอิสระ ให้ผิวมีสุขภาพดี ช่วยกักเก็บความชุ่มชื้นของผิว ทำให้ผิวชุ่มชื้น เรียบเนียน อ่อนนุ่ม คงความอ่อนเยาว์
✨ Olive Oil* (โอลีฟ ออยล์) : อุดมไปด้วยวิตามิน A วิตามิน E สารต้านอนุมูลอิสระ ช่วยชะลอริ้วรอยก่อนวัยซึมซับสู่ผิวได้อย่างรวดเร็ว ไม่เหนียวเหนอะหนะ ไม่ทิ้งความมันบนผิว กักเก็บน้ำหล่อเลี้ยงได้ยาวนานขึ้นคืนสมดุลย์ให้ผิว
✨ Sweet Orange Oil (สวีท ออเรนจ์ ออยล์) : ช่วยคลายเครียด คลายความอึดอัดใจ ลดความตึงเครียดและปลดปล่อยใจที่แบกภาระหนักไว้ให้วางลง
เหมาะกับผิว : สำหรับผิวธรรมดาถึงผิวแห้ง
วิธีใช้ : ใช้ทาผิวกายหลังอาบน้ำใหม่ๆ ตอนตัวเปียกหมาดๆ เพื่อการเก็บกักความชุ่นชื้นที่มีประสิทธิภาพ
Beauty Secret : แนะนำให้ใช้ body oil ตามด้วย Body Cream หรือ Body Lotion เพื่อผลลัพธ์ที่ดี
Light body oil is quickly absorbed into the skin with a non-greasy formulation to keep your skin hydrated and moisturized throughout the day. Suitable for normal to dry skin.  Our formula is wonderfully fast absorbing and does not leave residue.
Key Ingredients
✨ Grape Seed Oil high antioxidant properties, and has shown to contribute to the reduction of damaged cells from free radicals in the body.
✨ Olive Oil* Deeply nourishes dry skin and provides moisture throughout the day.
✨ Sweet Orange Oil super effective in simultaneously banishing negative moods like sadness, anxiety, sleepiness, tiredness, depression and laziness.
Skin Type : For dry skin
Usage : Apply to damp skin after bathing to seal in moisture
Beauty Secret :
Q: After applying body oil, do I need to apply body cream too?
A: Yes, we recommend always applying body cream or body lotion after body oil for full hydration.
STORY
'Erb' derived from an old Thai expression 'erb-im' which referred to the radiant glow of Thai women from eras past; a testament to their physical well-being and spiritual contentment. Dedicated to the art of fine living, women of the Siamese royal court pampered themselves with beauty regimens and indulgent botanical preparations. Their beauty was legendary, their allure irresistible.
Seduced by Siamese royal court recipes and rituals, Pattree Bhakdibutr, a leading Thai fashion designer, founded Erb in 2000. A fusion of traditional wisdom and modern femininity, Erb harnesses the power of natural ingredients using the latest scientific innovations, resulting in products that deliver exceptional benefits and induce a delightful sensorial experience.
Erb reinterprets traditional Siamese indulgences, bringing a touch of bliss to modern life.